As a first time buyer it can be tricky to navigate the world of mortgages and everything you need to do before getting the keys to your new home. Before you start to look at properties, you will need to save up a deposit which banks and mortgage providers need as security on the mortgage they lend you. 
Following the government's announcement in April 2021 of a new mortgage guarantee scheme, buyers can now be accepted for a mortgage with a 5% deposit. Several banks and building societies signed up to offer 95% mortgages to eligible buyers. However, there are a limited number of suppliers that are currently accepting smaller deposits, so you will likely get a better mortgage deal if you have a larger deposit. 
To calculate how much you need to save for a deposit, it is often a good idea to determine how much you can afford to borrow. For example, for a property that costs £250,000, you could save the following options as a deposit: 
5% deposit: £12,500

 

10%: £25,000

 
When applying for a mortgage and thinking about how much you need to save for a deposit, you need to take into account other fees you'll need to pay throughout your house buying journey. For example, when your offer has been accepted on a property you will need to start the conveyancing process. 
Property conveyancing is the legal process of transferring home ownership from one party to another. The two major stages of this are exchange and completion. You don't need to worry about this until a bit further down the line but it's something to keep in mind when you're considering how much you need to save and what fees your money will need to cover when getting a mortgage.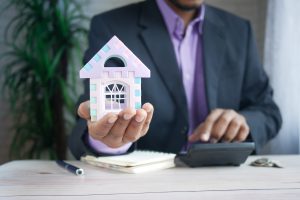 How much can you borrow?
The exact amount you will be able to borrow for your mortgage loan will depend on multiple factors including any current debts, your monthly incomings, and your outgoings. Whether you are a single applicant or joint applicants will play a part in how lenders look at your salary. 
For single applicants- they will normally lend you four times your annual salary

 

For joint applicants- it's usually three times your joint salaries or four times the first salary plus the second salary

 
It is important to remember that in accordance with mortgage application and market rules, lenders need to factor in your personal expenses like bills, debts, and childcare costs to name a few examples. This allows them to get a clearer picture of how much you can afford, the more of these outgoings you have, the less you'll be able to borrow. Lenders must feel confident that you can afford to repay the loan they give you. 
The amount you need to borrow for your mortgage as a first time buyer can vary significantly based on where you live, as house prices differ by region. The south is often more expensive than the north.  
London's average house price is the most expensive in the UK at around £496,000. On the other end of the scale, the North East has the lowest average house price coming in at £141,000. This is according to statistics from the 2020 UK House Price Index. 
Loan to value (LTV)
You might have come across this term before as normally mortgages are described as a specific 'loan to value', commonly referred to as LTV. Essentially, this means that the percentage of the property's price that is covered by the mortgage. So, if a home costs £300,000 and you have a 10% deposit, you'll need to get a mortgage of £270,000, making the loan to value of the mortgage 90%. 
Can you get a 100% mortgage?
A small number of mortgage providers offer 100% mortgages. This is when you are borrowing the full value of the home and you don't put down any deposit amount. In the majority of cases, a 100% mortgage is only available through guarantor mortgages. These mortgages involve a guarantor, normally a parent or relative, who will be responsible for paying the mortgage if you are not able to do so. 
Even though a 100% mortgage means you don't need to save anything for a deposit, it comes with significantly higher risk. If house prices fall you are vulnerable to the possibility of negative equity (where your home is worth less than the amount you've borrowed).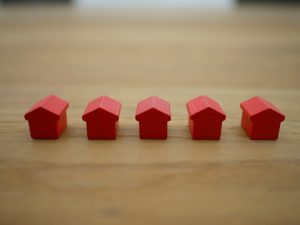 Should you save for a bigger mortgage deposit?
When it comes to first time buyer mortgages, you're likely going to be considering a 90% or 95% mortgage deal (so you'll need to have a 10% or 5% deposit saved). If you are borrowing money in any capacity, it's all about risk. The larger deposit you can put down, the lower the risk you are perceived to be by lenders and the more deals you'll likely be offered by a mortgage lender. 
Pros: 
The more deposit you can get together the stronger position you will be in. This is because mortgage interest rates are lower at 90% LTV in comparison to 95%.

 
A larger deposit means a lower mortgage interest rate which means reduced monthly payments.

 

If you have a bigger cash deposit to put down, you'll be at lower risk of falling into negative equity.

 
Cons: 
If house prices increase while you are saving up a bigger deposit, the amount you've saved is reduced as percentage of the house value.

 

You might be paying rent while you are waiting to buy your first home which some people to consider to be a waste of money.

 
How to save a higher deposit
Saving for a deposit as a first time buyer can feel long, slow, and like hard work, particularly with house prices rising. However, there are some options to help first time buyers. From savings accounts to help to buy schemes, there are ways you can better your savings habit. Some examples of these include: 
Lifetime ISAs- with this savings scheme, the government pays £1 for every £4 you save. You can put a maximum of £4,000 a year into the ISA towards your first home.

 

Regular savings- you have the option to set up a direct debit into your savings account. Adding a fixed amount of money into a separate account each month means you'll be less likely to touch it.

 

Budgeting/saving apps- there are several apps that save your spare money which can help to grow your deposit fund. Keep in mind though that they don't normally pay interest on the amount you've saved.

 
Assess your living situation- look at if your rent is too expensive for you to make reasonable savings. Many first time buyers move back in with their parents or go into a flat share whilst they're saving for a deposit.

 
Conclusion
Ultimately, the amount you need to save for your mortgage will depend on whether you want to go with a 5% or 10% deposit and the price range of houses you think you'll be looking at. 
If you've secured your mortgage and have an offer accepted on your first property, you're ready for our professional residential conveyancing services. Contact our friendly conveyancing solicitors at Toomey Legal today to find out more about how we can help you.